By: Kacie Gillespie
National Nutrition Month is an annual campaign created by the Academy of Nutrition and Dietetics that is celebrated in the month of March. The purpose of this annual campaign is help Americans to make informed food choices and to develop healthful eating and physical activity habits.
Each year, the Academy of Nutrition and Dietetics picks a different theme to relay important nutritional information in a creative and fun way. With that in mind, the year of 2023's theme is "Fuel for the Future," which helps individuals eat in different ways while keeping sustainability in mind. This is a great way to help keep those nourished during every phase of life all while protecting the environment at the same time.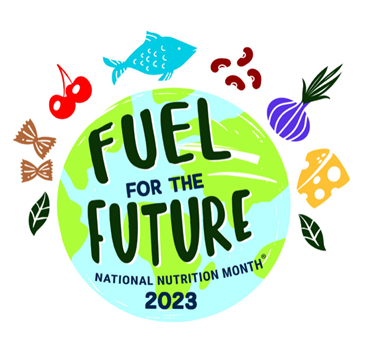 There are several ways you can fuel for the future when planning meals and snacks.
Eat with the Environment in Mind: Try to enjoy more plant-based meals or start a garden and grow your own fresh fruits and vegetables. Purchase more foods with minimal packaging and buy foods in season from your local produce or farmer's market.
See a Registered Dietitian Nutritionist (RDN): Ask your primary care physician for a referral to a RDN who specializes in your own nutritional needs and learn about how your nutritional needs change over time. You can find a dietitian at: https://www.eatright.org/find-a-nutrition-expert
Shop on a Budget: You can do this by creating a grocery list to help plan out your meals and snacks for the week; this will help save money when grocery shopping. To reduce food waste, make sure you check your refrigerator and pantry before buying more food. Explore community resources and governmental programs such as local food banks, Supplemental Nutrition Assistance Program (SNAP) and Special Supplemental Nutrition Program for Women, Infants and Children (WIC).
Eat a Variety of Foods: Choose from different food groups whether it's fresh, frozen, canned, or dried. Include your favorite cultural foods and traditions in your meals. Avoid restrictions, and most importantly practice self-love!
Learn how to Make your Own Meals: Experiment making tasty meals with new flavors by using a variety of herbs and spices as well as trying different foods from around the world. Furthermore, find innovative ways to use leftovers instead of throwing them away. Get creative with it!
Remember these different tips and tricks on healthy eating habits throughout the rest of the year and join us in celebrating National Nutrition Month in the future.
Resources:
Fuel for the future: Academy celebrates 2023 National Nutrition Month®. eatrightPRO.org – Academy of Nutrition and Dietetics. (n.d.). Retrieved March 22, 2023, from https://www.eatrightpro.org/about-us/for-media/press-releases/fuel-for-the-future-academy-celebrates-2023-national-nutrition-month
National Nutrition Month. Tennessee State Government – TN.gov. (n.d.). Retrieved March 22, 2023, from https://www.tn.gov/health/health-program-areas/fhw/wic/redirect-wic/national-nutrition-month.html